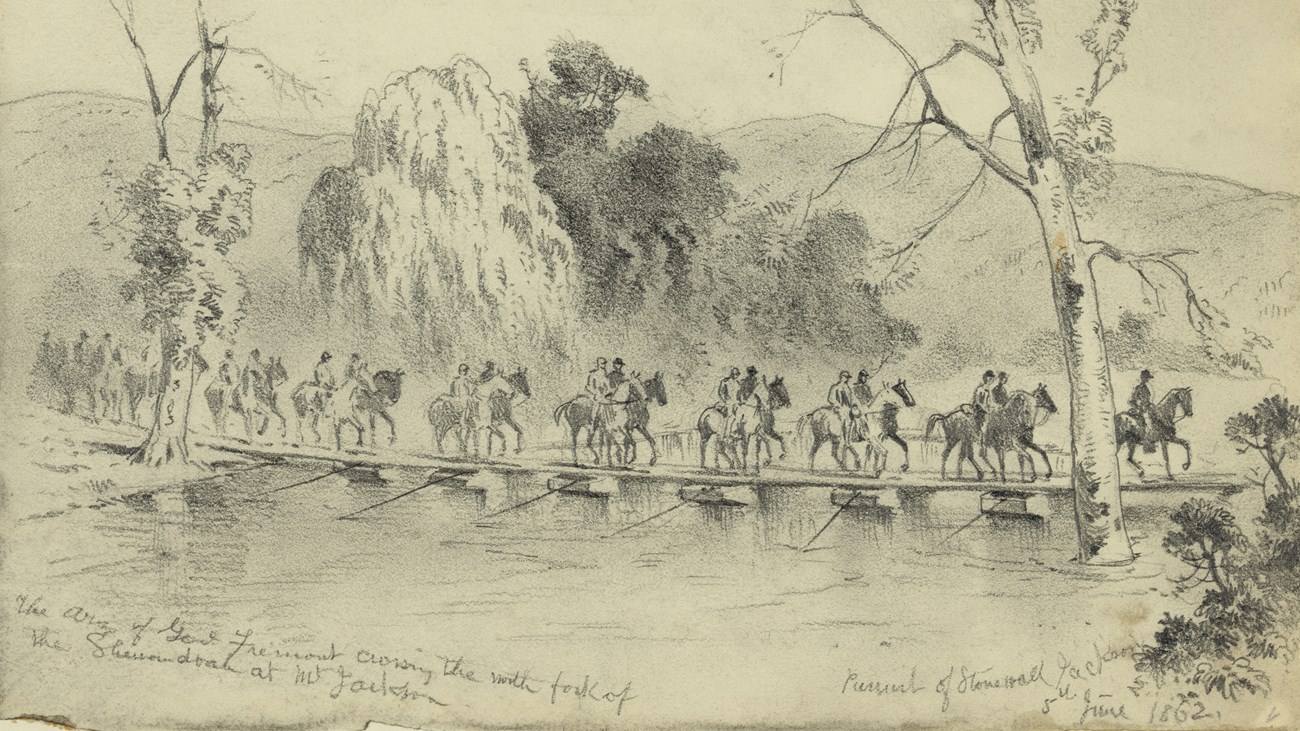 "If this Valley is lost, Virginia is lost."

Confederate Gen. Thomas "Stonewall" Jackson
Strategic Diversion
With U.S. Maj. Gen. George B. McClellan advancing on Richmond with 100,000 soldiers, Confederate Maj. Gen. "Stonewall" Jackson had orders for a strategic distraction in the Shenandoah Valley. In March 1862 he marched his small army of about 3,500 men northward from Mount Jackson, determined to strike the Federals.
Campaign & Battles
Using aggressive tactics and thorough knowledge of the Valley's terrain, Jackson fought and beat several Federal commanders up and down the Valley from late March to early June. The Federal retreat in June let Jackson's army leave the Valley on June 17 to join Gen. Robert E. Lee's besieged army near the Confederate capital at Richmond.
November 4, 1861 
Confederate Lt. Gen. Thomas "Stonewall" Jackson takes command of the Valley District.
December 8-12, 1861 
Actions at Dam no. 5, C&O Canal
January 1, 1862 
Jackson begins winter campaign in Winchester, Virginia.
January 3-5, 1862 
Skirmishes at Bath and Hancock
January 10, 1862 
Confederates reach Romney (present day West Virginia).
January 23-30, 1862 
Jackson's Army returns to Winchester.
February 7, 1862 
Federal forces reoccupy Romney.
February 24-26, 1862 
US Maj. Gen. Nathaniel P. Banks Army cross the Potomac River into Virginia.
March 11,1862 
Jackson evacuates Winchester.
March 12, 1862 
Banks occupies Winchester.
March 18, 1862 
Skirmish at Middletown
March 23, 1862 
Forces Engaged: 12,300 total (US 8,500; CS 3,800)
Estimated Casualties: 1,308 total (US 590; CS 718)
Result: Federal Victory
March 24, 1862 
Jackson's army retreats.
April 1-2, 1862 
Federals follow south to Edinburg.
April 12, 1862 
Banks assumes command of the Department of the Shenandoah.
April 17, 1862 
Federals reach Mount Jackson and New Market.
April 19, 1862 
Jackson falls back east to Swift Run Gap.
April 22, 1862 
Federal troops occupy Harrisonburg.
April 30, 1862 
Jackson sets out towards Staunton. Confederate Maj. Gen. Richard S. Ewell's division crosses the Blue Ridge at Swift Run Gap into the Shenandoah Valley.
May 3, 1862 
Jackson's army departs the Valley via Brown's Gap.
May 4, 1862 
Jackson returns his army to the Valley by rail, from Mechum's River Station via Rockfish Gap to Staunton.
May 8, 1862 
Forces Engaged: 12,500 total (US 6,500; CS 3,000)
Result: Confederate Victory
May 12, 1862 
Brig. Gen. James Shields' Federals are recalled from the Valley 
Banks withdraws to Strasburg.
May 20, 1862 
Jackson's and Ewell's men unite at New Market.
May 23, 1862 
Forces Engaged: 4,063 total (US 1,063; CS 3,000)
Estimated Casualties: 960 total (US 904; CS 56)
Result: Confederate Victory
May 24, 1862 
Running fight through Middletown as Banks retreats to Winchester.
May 25, 1862 
Forces Engaged: 22,500 total (US 6,500; CS 16,000)
Estimated Casualties: 2,419 total (US 2,019; CS 400)
Result: Confederate Victory
May 29-30, 1862 
Jackson demonstrates against Harper's Ferry.
May 31, 1862 
Jackson's army marches through Winchester.
May 30-June 5, 1862 
Jackson falls back to Harrisonburg
June 6, 1862 
Engagement of Harrisonburg; death of Col. Turner Ashby
June 8, 1862 
Forces Engaged: 17,300 total (US 11,500; CS 5,800)
Estimated Casualties: 951 total (US 664; CS 287)
Result: Confederate Victory
June 9, 1862 
Forces Engaged: 9,500 total (US 3,500; CS 6,000)
Estimated Casualties: 1,818 total (US 1,002; CS 816)
Result: Confederate Victory
June 17, 1862 
Jackson leaves the Valley for Richmond, Virginia.
The U.S. Army won the First Battle of Kernstown, just south of Winchester, on March 23, 1862, but Jackson's aggressiveness caused great alarm in Washington. Believing Jackson had a larger number of men, Lincoln sent thousands of Federal soldiers back to the Valley. Though this battle was a tactical loss for Jackson, he scored a strategic win by keeping the Federals from Richmond.
From Kernstown, Jackson retreated up the Valley to Swift Run Gap, where Gen. Richard Ewell's division reinforced him. Meanwhile, U.S. Gen. John C. Fremont moved from what is now West Virginia to threaten the Valley. Leaving Ewell in the Valley to counter Banks' force, Jackson deceived the Federals by marching the rest of his small army east and out of the Valley towards Richmond. A day later he secretly returned his troops to the Valley by rail to Staunton for a counter-offensive. Jackson surprised Fremont's vanguard under Gen. Robert Milroy on May 8th at the Battle of McDowell. Jackson's victory forced Milroy's troops to retreat westward.
By late May Jackson had 17,000 men in his ranks. He moved them north against Banks' main force at Strasburg. Using his knowledge of Valley geography, Jackson side-stepped Banks by marching the bulk of his army across Massanutten Mountain. The Confederates surprised and overwhelmed a small Federal outpost at the Battle of Front Royal, at the northern end of Massanutten, on May 23rd. Banks, finding Jackson in his rear, had no choice but to order a rapid retreat to Winchester, in hopes of making a stand there.
Before Banks could reach Winchester, Jackson cut into the retreating Federal column on the Valley Turnpike in a running fight through Middletown on May 24th. The Federals at the head of the line continued north to Winchester, and the column behind fled west out of the Valley. Jackson hoped to pursue Banks to Winchester, but some of the Confederate troops began to loot the wagons they had captured. This lost momentum allowed the rest of Banks' forces to safely reach Winchester that night.
To regain his momentum, Jackson attacked Winchester the following morning on May 25th. Jackson's success at the First Battle of Winchester caused Banks to withdraw towards Harper's Ferry and into Maryland. Outnumbered and facing two Federal armies, Jackson had cleared the Shenandoah Valley of all Federal troops in just over two weeks.
Lincoln ordered three Federal columns to converge on the Valley and trap the Confederates. Jackson marched his men hard, hoping to escape the Federal pincer converging on Strasburg. Banks pursed Jackson from the rear while Maj. Gen. John C. Fremont threatened from the west, and U.S. Maj. Gen. James Shields's force approached from the east. Jackson's bedraggled men barely cleared the town on June 1 as the Federal columns converged behind them. After their narrow escape Jackson hurried southward up the Valley.
Jackson prepared to make a stand at Port Republic, a small hamlet at the southern end of Massanutten. Jackson's control of the only bridges spanning the South Fork there prevented two Federal columns from joining. Jackson planned to attack them separately, starting with Fremont's. The Battle of Cross Keys on June 8th ended with the darkness. The Confederates kept their hold on the field and kept the Federal columns apart.
Having held off Fremont's column at Cross Keys, Jackson turned his attention to Shield's smaller force at the Battle of Port Republic on June 9th. Jackson left Ewell at Cross Keys to hold back Fremont, and concentrated the rest of his army on Shields at Port Republic. Though moving his men from Cross Keys to Port Republic proved difficult, Jackson won his second battle in two days, capping his spring campaign in the Valley.
People, Places, & Stories