50th Anniversary Timeline
Explore a timeline of Capitol Reef National Park's history and the laws that impact the park.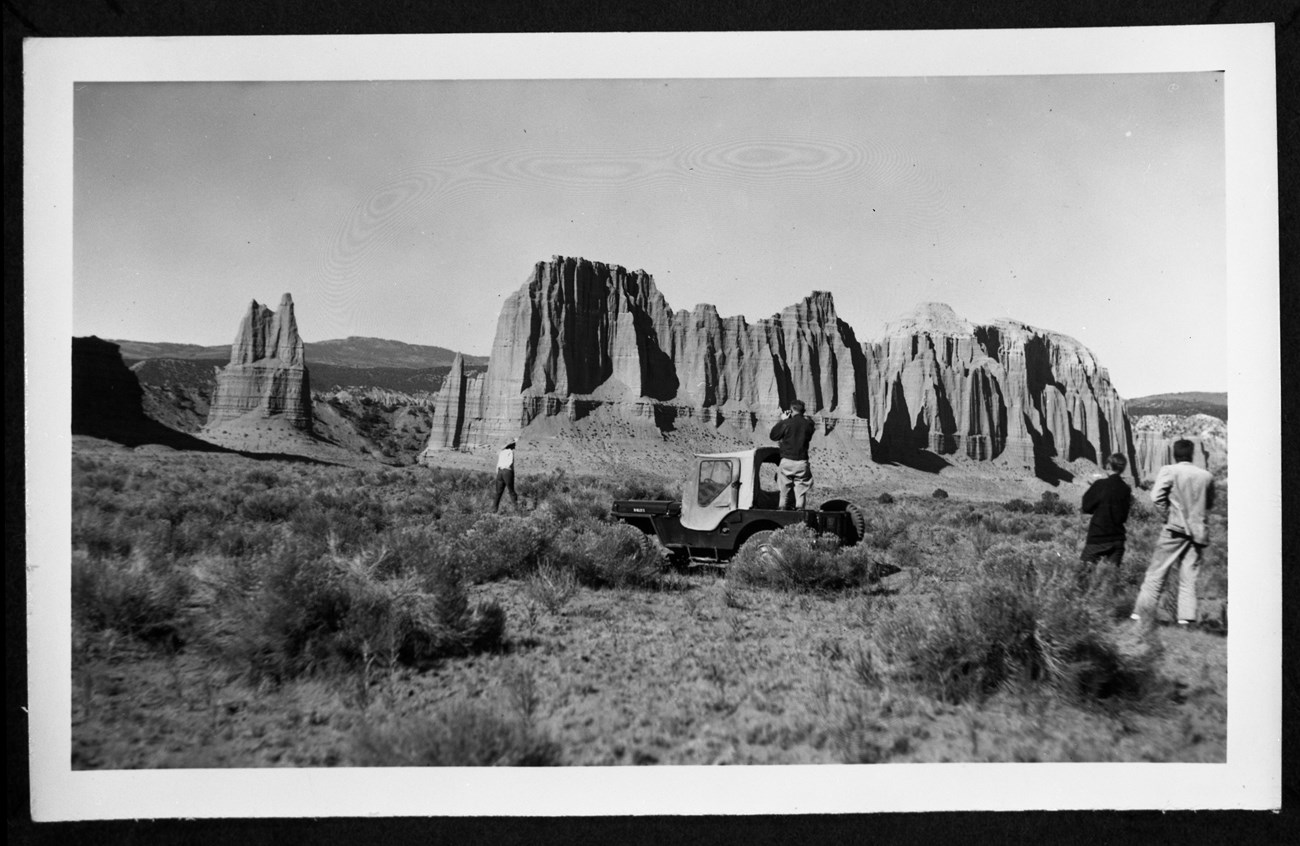 1906 - 1970
1906 - Antiquities Act, which allows the President of the United States to establish or expand national monuments.

1916 - NPS Organic Act, which establishes the National Park Service under the Department of the Interior.

1937 - Capitol Reef National Monument established by President Franklin Delano Roosevelt through the Antiquities Act (Presidential Proclamation 2246).

1955-56 - Mission 66 project proposed and then funded by Congress. Leads to the development of Capitol Reef National Monument visitor center.

1958 - President Dwight D. Eisenhower expands Capitol Reef National Monument with Presidential Proclamation 3249.

1963 - Clean Air Act Federal land managers, including the NPS, are required by the Clean Air Act to prevent the significant deterioration of air quality in places of special natural, recreational, scenic, or historic value. Capitol Reef's pristine night skies are also protected by the Clean Air Act.

1964 - Wilderness Act protects thousands of acres


1964—Loops A and B of the Fruita Campground are built and opened for visitor use.

1966 - National Historic Preservation Act Provides for the preservation of significant scientific, historic, and archeological material and data that might be lost or destroyed by federally sponsored projects. This law guides and frames what projects are done in Capitol Reef National Park.

1969 - Boundaries of Capitol Reef National Monument expanded by 600% through executive order (Presidential Proclamation 3888 by President Lyndon Baines Johnson).

1969 - Endangered Species Conservation Act (ESCA - predecessor to the Endangered Species Act).

1970 - National Environmental Policy Act (NEPA) requires the federal government to conduct an environmental impact study every time it wants to build, approve, or renovate. This act impacts all potential projects in Capitol Reef.

1970 - Peregrine falcons (found in Capitol Reef) listed as an endangered species (through the ESCA)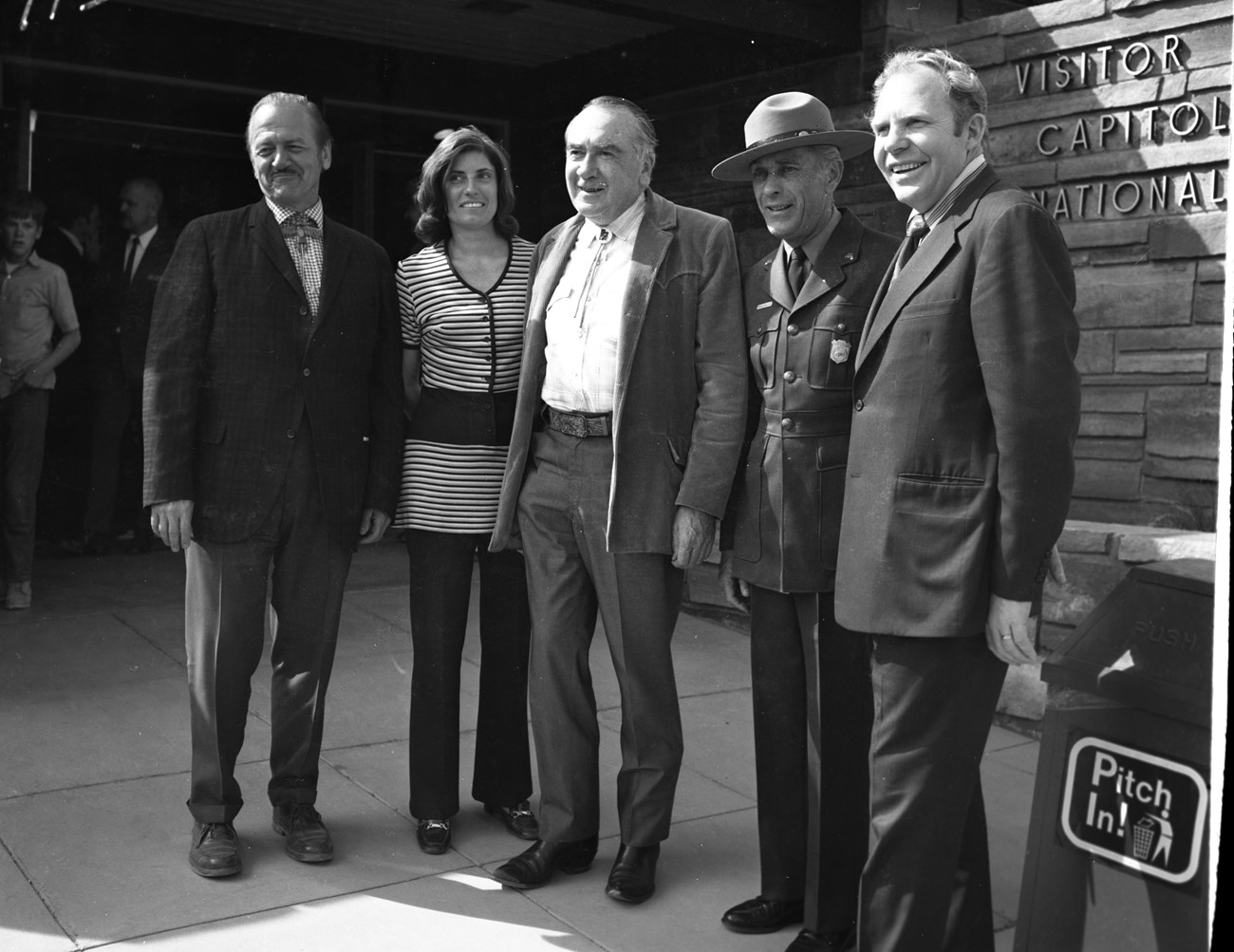 1971 - 1999
1971 - Park visitation is 225,500.

December 18, 1971 - Capitol Reef National Park is established by an Act of Congress, Public Law 92-207, signed by President Richard Nixon. The 1969 boundary was again adjusted to the park's current 243,921 acres.

1972 - Clean Water Act This law is designed to restore and maintain the chemical, physical, and biological integrity of the nation's waters, including the waters of the national park system. Capitol Reef's perennial waterways and wetlands are protected under the Clean Water Act.

1972 - Environmental Protection Agency (EPA) banned DDT, helping start the recovery of species like the peregrine falcon and bald eagle.

1973 - Endangered Species Act requires the monitoring of threatened and endangered species in Capitol Reef, and impacts land management decisions.

1974 - About 75% of Capitol Reef became proposed wilderness, and is managed as wilderness.

1974 - Safe Drinking Water Act makes sure Capitol Reef meets the standards for drinking water for staff and visitors.

1974 - Archeological Resources Protection Act (ARPA) Provides for the preservation of significant scientific, historic, and archeological material and data that might be lost or destroyed by federally sponsored projects.

1984 - 1985 - About thirty Desert Bighorn Sheep are reintroduced to the Red Slide area of Capitol Reef from Canyonlands National Park.

1986 - The last mining claims within Capitol Reef were declared null and void after the claim holders failed to file notices of intent to continue to mine.

1987 - Loop C is added to the Fruita Campground.

1989 - The Scenic Drive is paved to its present length.

1990 - Native American Graves Protection and Repatriation Act (NAGPRA) requires federal agencies to return Native American cultural items to lineal descendants and culturally affiliated tribes, as well as making it a criminal offense to traffic in Native American human remains. This law guided the repatriation of three bison-hide shields to the Navajo Nation in 2003.

1996-1997 - Forty more Desert Bighorn Sheep are reintroduced to Capitol Reef from Canyonlands National Park.

1996 - The Gifford House opens to the public as a museum with a few sale items.

1998 - National Park Service Omnibus bill states that Freedom of Information Act (FOIA) requests do not have to release information on threatened and endangered plants and animals.

1999 - Peregrine falcons are removed from the Endangered Species list due to conservation efforts backed by the ESA, the ban on DDT, and release captive-bred birds into the wild.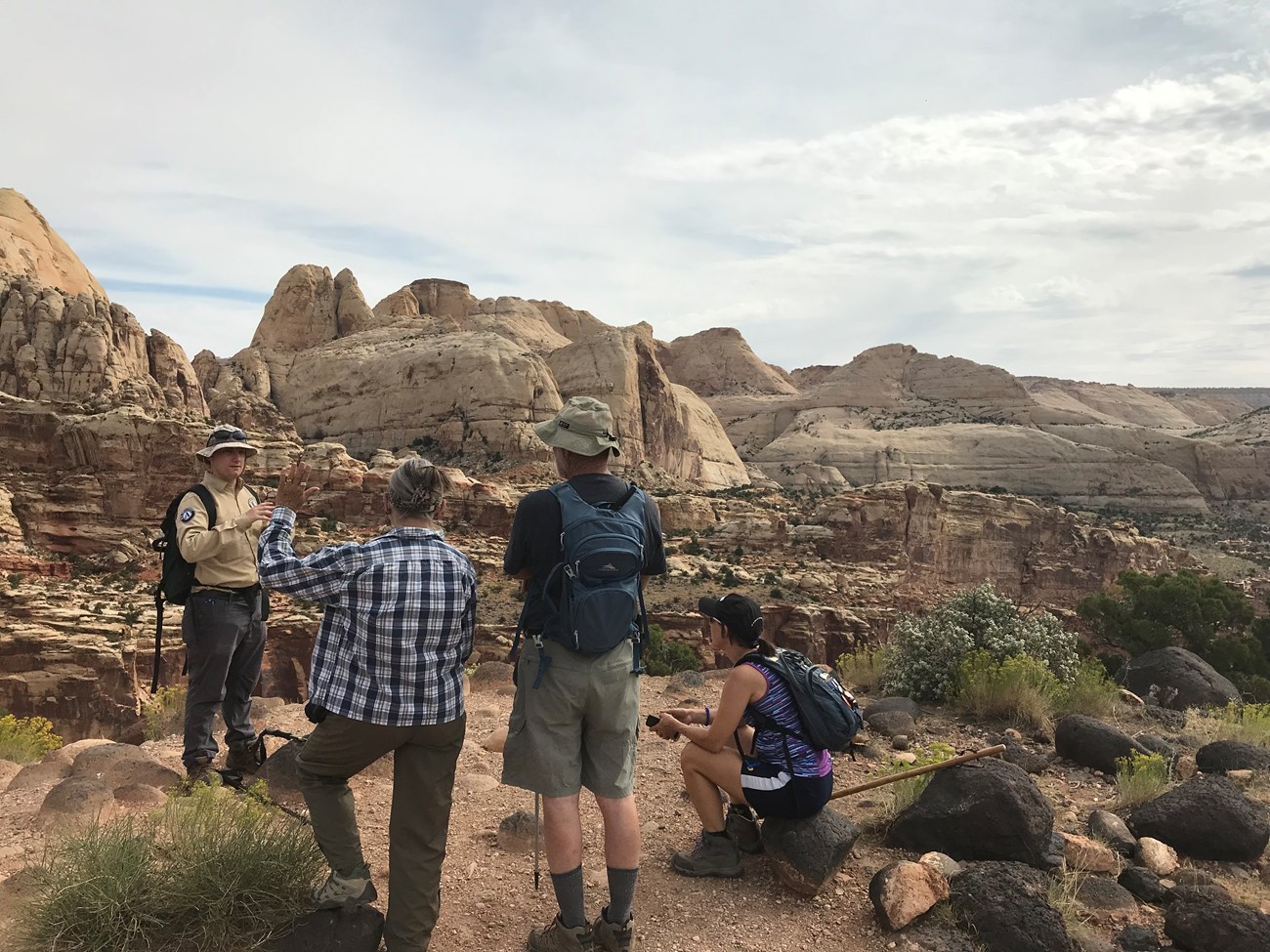 2000 - Today
2000 - Park visitation is 612,656.2006—The Gifford House begins selling locally made pies.
2009 - Omnibus Public Land Management Act of 2009 establishes National Landscape Conservation System, designates new wilderness areas on federal lands, and increases protection for paleontological resources (fossils), among other things.
2011 - Park staff begin planning new visitor center exhibits.2013—Leah McGinnis becomes first woman superintendent of Capitol Reef.
2015 - Capitol Reef designated International Dark Sky Park (Gold Tier) by the International Dark Sky Association.
2015 - Every Kid in a Park Initiative 4th graders and their families can get a free pass to visit Capitol Reef and other public lands.
2016 - Park visitation breaks 1 million (1,064,904). National Park Service Centennial.
2017 - Capitol Reef established an Artist-in-Residence program.
2019 - John D. Dingell Jr. Conservation, Management, and Recreation Act permanently funds EKiP program and designated new national park sites, monuments, conservation areas, etc.
2020 - Great American Outdoors Act allocates $9.5 billion over five years to address National Park Service maintenance backlog, as well as fully and permanently funding the Land and Water Conservation Fund.
2020-2021 - Visitor center rehabilitation project and orchard restoration project begin.
2021 - What will the future hold for Capitol Reef National Park?
Last updated: October 27, 2021