Safety
In Case of Emergency Dial 911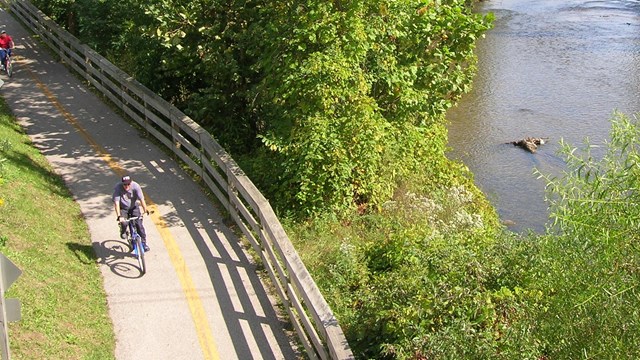 Bicycle Safety
Learn more about safety on the park's bicycle trails.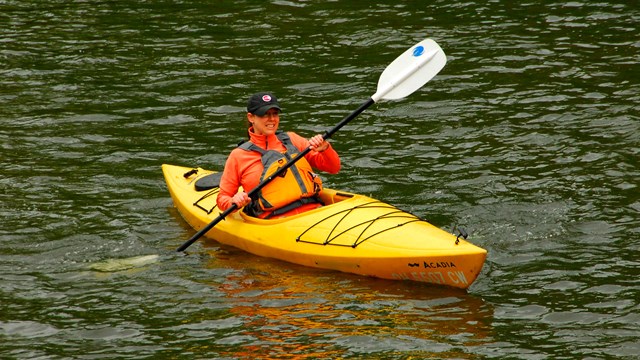 River Safety
Find safety tips and useful links for planning a trip on the Cuyahoga River.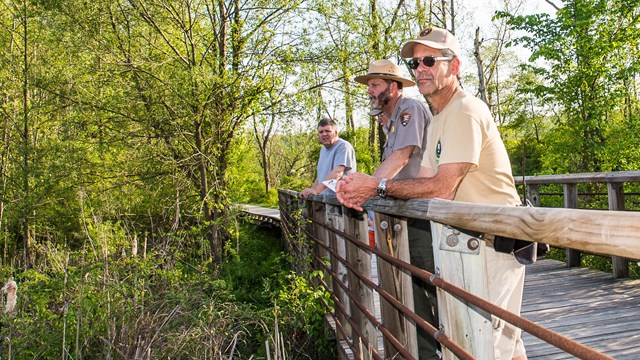 Current Conditions & Alerts
Be aware of closures and weather that may impact your stay before your visit.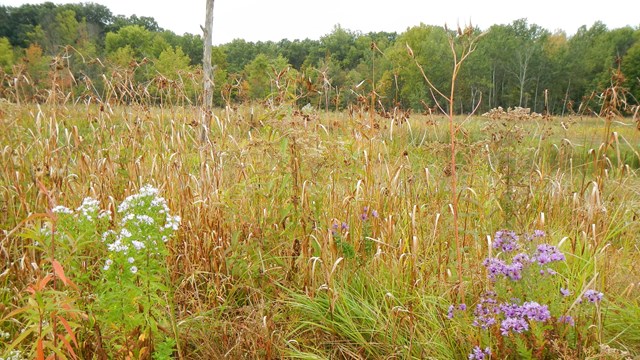 Tick Safety
Find tips for tick safety while visiting the park.
Additional Safety Topics
If you notice a suspicious object or person, trust your instincts and get help.
Immediately contact the Communication Center at 440-546-5945.
Report the facts: your name, place, time, and description of the person, vehicle, or package.
Move away from the area and don't get involved. Your job is done.
Keep valuables at home and not in your vehicle.
Be aware of your surroundings.
Do not park in unmarked parking spaces; this will avoid possible accidents.
Place purses and other valuables in the trunk before you get to the trailhead.
If running or hiking alone make sure to save the Communication Center number, 440-546-5945, in case of an emergency.
Enjoy wildlife from a distance; do not feed the animals.
Eating human food threatens the health and survival of wildlife. It can cause wild animals to lose their fear of humans, increasing the likelihood of bites or attacks.
Mosquitoes lay their eggs in standing water, which includes puddles, stagnant ditches, and containers such as old tires, buckets, cans, neglected swimming pools, etc. Storm sewers, culverts, and catch-basins, etc. provide an outdoor resting place for mosquitoes most commonly associated with West Nile Virus (WNV). It is important to apply mosquito repellant when participating in any outdoor activity - especially when fishing, hiking, or bicycling at night.
In 2017, Ohio had 29 counties that had WNV virus activity. As well as 600 WNV positive mosquitoes.
Any person bitten by a mosquito infected with West Nile Virus (WNV) is at risk.
Three pointed and glossy leaflets grow alternately off the stem and usually have irregular teeth.
Leaves are reddish when they first emerge in spring, green during summer, and various shades of red or yellow in autumn.
To avoid poison ivy wear a long-sleeve shirt and long pants.
Apply a pre-contact solution (available at drug stores) to exposed skin.
If you must handle the plant, wear impermeable gloves.
Remove and immediately wash clothing, gloves, and footwear in detergent or soap.
Always take stings seriously and monitor the victim's reaction. If you or someone else experiences severe symptoms (or have a history of them), call 911 and don't hang up the phone until instructed by the dispatcher.
Drink enough water.
Tell someone where you are going.
Use a trail map. During wet conditions, wear waterproof boots with a heavy tread and step carefully.
Don't become distracted. Be aware of your surroundings and watch children closely.
Don't endanger your dog, wildlife, or people. Keep dogs on a six-foot leash and hold them closer when others are near.
Leave valuables at home, not in your car.
Collect memories, not park resources.
Program the CVNP Communication Center into your cell phone and carry it with you: 440-546-5945.
Use extra caution when hiking later in the day.
Bring a trail map, flashlight, and mobile phone to avoid getting lost in the dark.
Watch for tripping hazards and stay on the trail.
Stay back from the edge. Footing is hazardous.
Use extra caution if it has rained or snowed recently.
Do not climb Brandywine Falls or the fences and rocks in the falls area. Accidents at this location have led to serious injury and death.
Stay back from the edge.
Use extra caution if it has rained or snowed recently. Walkways, boardwalks, and stairs can be especially slippery.
For your safety, park staff will close access to the lower platform during severe weather.
Use extra caution on bridle trails.

For everyone's safety, all other trail users must yield to horses.

Keep small children and dogs calm and near as you wait for horses to pass.
Respect other trail users.
Stay to the right and give a timely, audible signal before passing on the left.
People, pets, and wildlife can move unexpectedly. Allow enough room and time to respond.
Use extra caution in congested areas.
Don't risk a head injury. Always wear a helmet when cycling.
Be aware of your surroundings.
Avoid snow-covered bumps, ruts, branches, icy patches, and other hazards.
If someone has built a ramp, report it to a park ranger or volunteer.
Ramps can cause serious accidents.
When returning up the hill, stay away from downhill riders.
If you become too cold, warm up at the campfire or return to your vehicle.
Last updated: January 12, 2023