Dinosaurs
The most common dinosaur fossils in the Glen Canyon Sandstone so far have been footprints, although there has been one partial skeleton discovered. Tracks present an interesting nomenclature problem because they are labeled with their own names, which are never the same as the names of the species that might have made them. This is because tracks are usually too generic-they could have been made by any similar dinosaur of a certain size. For example, the foot of Coelophysis is so similar to that of its relative Procompsagnathus that trying to distinguish between the two footprints would be almost impossible. So instead of calling a track of a certain shape and size "the one made by Coelophysis or Procompsagnathus," paleontologists simply pick an unrelated name.
Eubrontes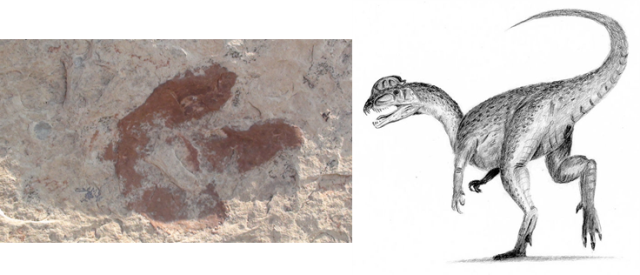 One horizon contains theropod tracks identified as Eubrontes. These tracks could have been made by any three-toed dinosaur of a certain size (even a juvenile of a larger species). In this case, though, the trackmaker was certainly a large carnivorous dinosaur-15-20 feet long-possibly Dilophosaurus, which was the model for the spitter dinosaurs in the film Jurassic Park.
Grallator
One common footprint is the small theropod track Grallator. Like most theropods, the Grallator track-maker was a carnivorous dinosaur, and these footprints are generally 4-8 inches in length.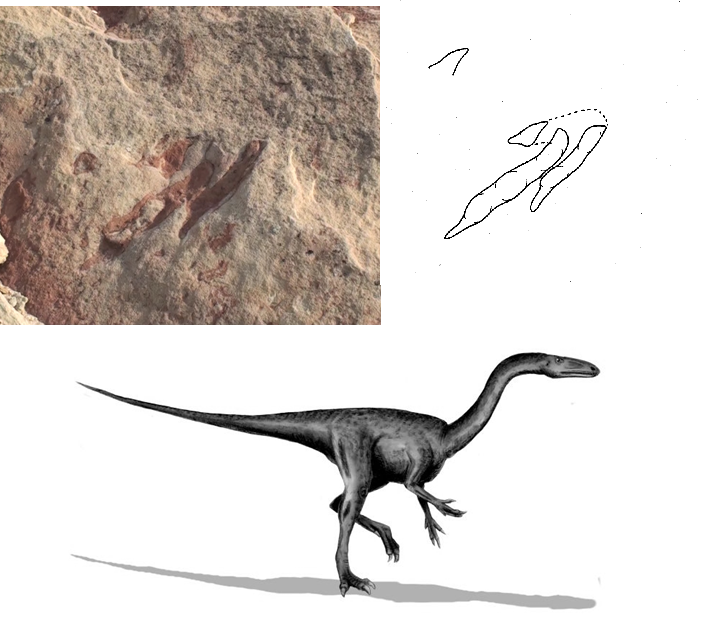 Otozoum
Another very large footprint horizon preserves the prosauropod tracks Otozoum. Prosauropods resemble sauropods in that they have small heads and long necks and were herbivorous. Their forelegs were shorter than their hind legs, and most of them were at least semi-bipedal. As you can see from the photo below, their toes were short and stubby and their feet were broad, in contrast to the longer toes and thinner feet of the theropods. No prosauropod skeletons have been found in Dinosaur National Monument, although a significant part of a skeleton has recently been recovered from the Glen Canyon in southern Utah.

Coelophysis
Late in the summer of 2008, the Glen Canyon Project paleontologists discovered a horizontal layer of sandstone that contained many carnivorous dinosaur bones exposed on the surface. Excavations at this site have produced hundreds of bones, beautifully preserved and uncrushed. Discoveries include numerous skulls, among the rarest of dinosaur finds, as well as many bones from all other parts of the skeletons. This is the richest Early Jurassic deposit of meat-eating dinosaurs anywhere in the world. At least two (maybe more) species are present; they are small, 2-3 meters in length, and are primitive carnivorous dinosaurs related to Coelophysis. It is likely that many or all of these fossils belong to species new to science. The study of these spectacular fossils is just getting underway.
Last updated: February 24, 2015