Earth Science Week to be Celebrated at Grand Canyon National Park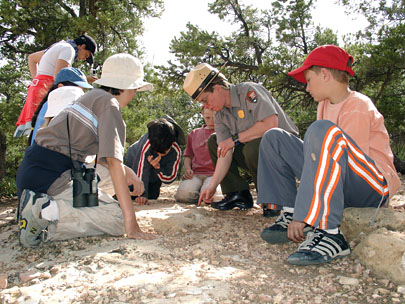 News Release Date:
October 1, 2012
Contact: Maureen Oltrogge, 928-638-7779
Contact: Allyson Mathis, 928-638-7923
Contact: Shannan Marcak, 928-638-7958
Grand Canyon, Ariz - Grand Canyon National Park invites the public to join in its celebration of Earth Science Week (ESW) and National Fossil Day during the week of October 14 – 20, 2012.
Earth Science Week promotes understanding and appreciation of the Earth sciences and their relevance to our daily lives. National Fossil Day, a part of Earth Science Week, fosters a greater appreciation of the scientific and educational value of fossils and promotes public stewardship of fossils sites. Grand Canyon is an ideal place to celebrate ESW, as it is a natural classroom and laboratory for the earth sciences and is one of the world's most famous geologic landscapes. 
The park's commemoration of Earth Science Week will include a variety of special programs:
Fossil Walks will be offered from Monday through Thursday, October 15 - 18, at 10 am.
On Tuesday, October 16, the park will celebrate No Child Left Inside Day as part of Earth Science Week by offering a special family-oriented Fossil Walk at 4:30 pm.

On Friday, October 19, a 1.5-mile roundtrip guided hike on the Bright Angel Trail to Kolb Seep will focus on the springs and seeps found along Bright Angel Trail and their importance to the canyon.

Also on Friday, October 19 is the week's keynote presentation "Eddie McKee: A Grand Life" at 7 pm.
On Saturday, October 20, keynote speaker, Sarah Andrews, will offer an additional program, "CSI Grand Canyon: How Geologists Help Solve Mysteries" at 11 am.
In addition to the event's special programs, there will be daily geology programs at 3 pm, the park's regularly scheduled evening programs will relate to the Earth sciences, and kids will be able to participate in the National Park Service's Junior Paleontologist. 
This year's keynote presentation, "Eddie McKee: A Grand Life", will take place on Friday, October 19at 7 pm in the Shrine of the Ages auditorium. Author and geologist Sarah Andrews will share stories about Grand Canyon's second park naturalist.  
Eddie McKee was a legendary geologist and naturalist who worked at Grand Canyon from 1929 to 1940. McKee's contributions to the understanding of Grand Canyon were immense. He researched and wrote a variety of technical and popular geology publications; compiled the first checklists of birds, mammals, amphibians and reptiles found in Grand Canyon; and helped establish the Grand Canyon Association, the park's cooperating association and fundraising partner. 
Keynote speaker Sarah Andrews worked for McKee at the US Geological Survey starting in 1974. McKee mentored Andrews who was then a budding geologist. Andrews has worked as a geologist in both the public and private sector, and is currently the author of forensic geology mysteries. Andrews is a fellow of the Geological Society of America and has received awards for her contributions to the public understanding of geology from the National Association of Geoscience Teachers and the American Association of Petroleum Geologists. 
In honor of Earth Science Week and National Fossil Day, Grand Canyon Association, the official nonprofit partner of Grand Canyon National Park, will be offering a10% discount (25% for members) on select geology and fossil books and other merchandise. Proceeds from sales benefit the educational, scientific, historical and research efforts of the National Park Service. 
The full schedule of Earth Science Week programs is available online at https://www.nps.gov/grca/planyourvisit/earth-sci-week.htm. For additional information, please contact Allyson Mathis, Science and Education Outreach Coordinator, at (928) 638-7923, or Stephanie Sutton, Supervisory Park Ranger (Interpretation) at (928) 638-7783. You can also follow Grand Canyon National Park and its events on Twitter at https://twitter.com/#!/GrandCanyonNPS and Facebook at https://www.facebook.com/GrandCanyonNationalPark. 
To learn more about Earth Science week, please go to http://www.earthsciweek.org/whatisesw/index.html. For more on National Fossil Day, visit https://nature.nps.gov/geology/nationalfossilday/; and to learn more about the NPS' Junior Paleontologist program, go to https://nature.nps.gov/geology/nationalfossilday/jrpaleo.cfm. 
-NPS-
Last updated: February 24, 2015