Picnic Areas
Mammoth Cave offers several picnic areas throughout the park. As you prepare and enjoy your meal, help protect the park, wildlife, and yourself:
Never feed wild animals, including birds and squirrels
Animals that become dependent on human food may become aggressive.

Store all food when not in use
Keep all food, garbage, or smelly items in your vehicle so that animals cannot access them.

Use stoves and fire properly
Camp stoves and self-contained charcoal grills may be used to prepare food in picnic areas. Fires are only allowed within the park provided charcoal grills.

Do not camp in picnic areas
Overnight camping is not allowed in picnic areas.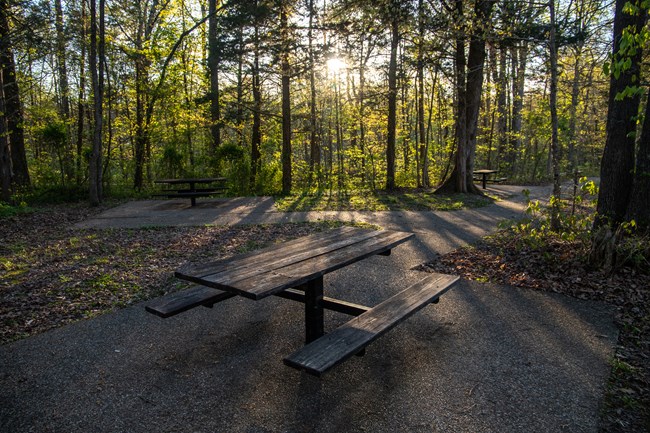 Picnic Area Details
Mammoth Cave Picnic Area
Located north of the main visitor center parking area, the Mammoth Cave Picnic Area is the largest picnic area in the park with numerous picnic tables. The area also includes two reservable picnic shelters available for a fee. The picnic area also has fire grates, charcoal grills, restrooms, potable water, garbage dumpsters, and access to hiking trails.
Echo River Spring Trailhead Area
Located next to the Green River Ferry parking lot, this trailhead leads to the accessible Echo River Spring trail which connects to several other short hikes in the visitor center and southside area. The picnic area includes only 2 accessible picnic tables, portable toilets, and access to trails.
Maple Springs Day Use Area
Located near the Maple Springs Group Campground on the north side of the park, the Maple Springs Day Use Area has access to numerous hiking, mountain biking and horseback riding trails. The picnic site includes picnic tables, vault toilets, garbage dumpsters, access to trails, and horse trailer parking.
Houchin Ferry Picnic Area
Near the town of Brownsville, the Houchin Ferry Picnic Area sits along the banks of the Green River next to the Houchin Ferry Campground. The picnic area includes benches, picnic tables, a covered picnic shelter with a fire place, charcoal grills, potable water and portable toilets.
Dennison Ferry Day Use Area
The Dennison Ferry Day Use Area is often used as the starting location for canoe and kayak day trips on the Green River. The site includes a picnic area with benches, picnic tables, and portable toilets. There are no trashcans here so please pack out your trash. Access to the site is via a 1.6 mile (2.57 km) gravel road.
Sloans Crossing Pond Picnic Area
Located next to Sloans Crossing Pond along Mammoth Cave Parkway. The site has 3 tables and includes accessible picnic tables and trashcans.
Last updated: February 3, 2022