Water for 100 Years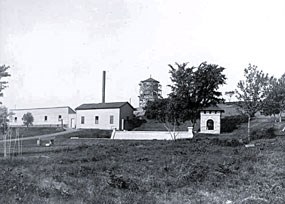 On June 8, 1857, the U.S. Army sold Fort Snelling to Franklin Steele for $90,000 but bought it back only four years later with the start of the Civil War. Soldiers from Fort Snelling located initially at Coldwater Spring in 1820 for the fresh water supply. From the fort's completion in 1824 through the 1870s, they relied on horse-drawn water wagons and then railcars to deliver water from Coldwater Spring.
In 1879, just as the Army began consolidating forts around the country, Minnesota had an unusual amount of influence over the Army. Alexander Ramsey had become the Secretary of War in 1879. The former Minnesota governor and senator not only saved Fort Snelling, he helped initiate a massive expansion that is now called the Upper Post.
The fort's growing sized demanded a more efficient water supply system, and in 1880, the Army established a formal waterworks at the spring. By 1885, the Army had constructed a small reservoir, a well house, a pump house, fuel storage shed, water tower and an engineer's residence at the spring site. They expanded the reservoir and added another water tower by 1900.
During the 1920s, however, the Army turned to the City of St. Paul for its water supply and abandoned Coldwater spring. The site lay largely unused for the next three decades.
Return to From Gunflints to Moon Rocks.
Last updated: April 10, 2015