Minnesota's First Settlement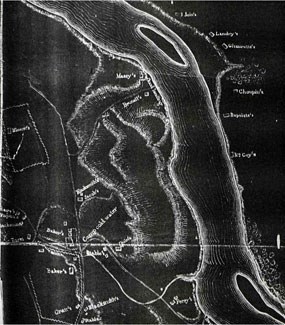 Soldiers had finished and moved into Fort Snelling by 1824. Drawn by the fort's presence, squatters established the community of Camp Coldwater around the spring and northwest along the Mississippi.
Benjamin Baker located his fur trade post at the spring in the early 1830s. An 1837 map of Fort Snelling by Lt. E. K. Smith shows more than 20 buildings comprised the Camp Coldwater community, including blacksmith shops, farms, Baker's post, fenced lots and outbuildings. A census of the community tallied 157 individuals.
Baker's post may have been the only part of the settlement that survived after 1840, when the commandant of Fort Snelling forced the squatters off the Fort Snelling military reservation. Though short-lived, Camp Coldwater is considered Minnesota's first American settlement.
Baker's posts changed hands and uses over the next two decades, serving as a boarding house and the St. Louis Hotel for a while. In 1862 it burned down.
Return to From Gunflints to Moon Rocks.
Last updated: April 10, 2015