Ticks Test Positive for Lyme Disease at Paramount Ranch in Agoura Hills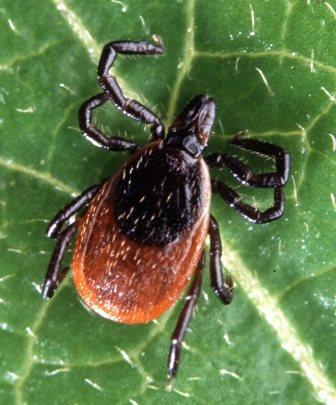 News Release Date:
April 11, 2013
Contact: Kate Kuykendall, 805-370-2343
Contact: Robert Saviskas, 310-915-7370, ext. 223
THOUSAND OAKS, Calif. - Officials from Los Angeles County and Santa Monica Mountains National Recreation Area (SMMNRA) are advising visitors that ticks from Paramount Ranch in Agoura Hills recently tested positive for Lyme disease. Three separate pools of western black-legged ticks (Ixodes pacificus) found along the Coyote Trail were found to be positive.
"This is a good reminder for visitors to stick to the trail and avoid the vegetated areas where ticks like to hang out," said Evan Jones, SMMNRA chief ranger. "Though Lyme disease can be very serious, simply following a few basic steps can greatly minimize exposure."
Jones also advises the public to check clothing and exposed skin before heading home, making sure to brush off any small creatures. Wearing light-colored clothing with long sleeves and long pants is also recommended.
Lyme disease is an infectious disease that can start as a mild flu-like illness and develop into severe chronic health problems over time. If identified in the early stages, it can be successfully treated with antibiotics, but the potential for long-term complications increases if the disease progresses untreated. 
Paramount Ranch was one of three Santa Monica Mountains park sites that came back positive for Lyme disease in tests conducted by Los Angeles County West Vector and Vector-Borne Disease Control District. The other two locations were Tapia Park and Malibu Creek State Park, both located within a short distance of one another.
Robert Saviskas, executive director of the L.A. county agency responsible for conducting the tests, said this was the first year his agency tested for Lyme disease at Paramount Ranch, among approximately 12 sites tested within the Santa Monica Mountains. The first tick known to carry Lyme disease was found in the mountains in 1998.
"We're finding that about 1 or 2 percent of western black-legged ticks in the area carry the Lyme disease bacteria, so it's important for us to identify where the problem is occurring," said Saviskas. "This particular tick is most active from late November through May." 
More information is available at www.lawestvector.org or by calling 310-915-7370.
About Santa Monica Mountains National Recreation Area:
Santa Monica Mountains National Recreation Area (SMMNRA) is the largest urban national park in the country, encompassing more than 150,000 acres of mountains and coastline in Ventura and Los Angeles counties. A unit of the National Park System, it comprises a seamless network of local, state, and federal parks interwoven with private lands and communities. As one of only five Mediterranean ecosystems in the world, SMMNRA preserves the rich biological diversity of more than 450 animal species and 26 distinct plant communities. For more information, visit www.nps.gov/samo.
About Los Angeles County West Vector and Vector-Borne Disease Control District:
Formed in 1944, the district covers approximately 680 square miles, containing 23 cities, unincorporated portions of Los Angeles county and more than 4.2 million people. Vector control is necessary on a continuous routine and area-wide basis to protect the health and enhance the economic development, recreational use, and enjoyment of outdoor living. For more information, visit www.lawestvector.org. 
###
Last updated: March 1, 2015